Customized privacy screen protection
Privacy protection of personal data on your monitor or display is becoming increasingly important. Advanced display protection technology can be easily applied to stop visual hackers.
Why Visuele Privacy Protection:
The screen remains clear. When you look directly at the screen, it remains clearly readable.
Visual hackers are in the dark. Curious people next to you only see a black screen, as if the screen is off.
Advanced display protection technology prevents people from looking sideways.
Suitable for touchscreens, tablets, laptops, all-in-one PC and curved or standard monitors.
Easy to assemble
Options Visuele Privacy protection:
2 weg privacy protection: left and right side darkening after 30 degrees
4 weg Professional privacy protection: left & right side + top and bottom darken after 30 degrees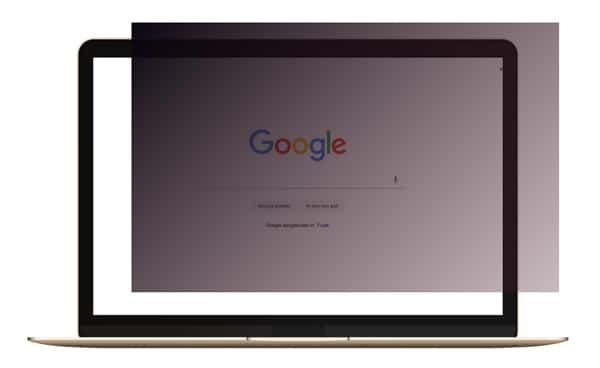 2 Way

4 Way Pro

Verduistering hoek
30 graden
Links en rechts
30 graden
Links, rechts, boven en onder
Montage
Vast / Afneembaar
Vast
Type scherm
Mat / Glossy
Mat / Glossy
Anti-glinstering
Krasbestendig
Max. formaat
48 inch
22 inch
Privacy in your business
Look beyond the walls of your office. In the modern, mobile business environment, it is more important than ever to have a plan for visual privacy protection.
Practically every monitor you see is also visible by a visual hacker.
Everyone can be a potential hacker.
How many visitors and external employees come to your office every day? Even your own employees can see confidential information.
Open office environments are an important target.
Because of the low walls, glass walls and shared spaces in many open office environments, more people can watch more monitors.
Congress centers, restaurants, staff rooms, lunch rooms, check-in desks, meeting rooms and increasingly common glass office walls and doors offer all kinds of possibilities for curious people.
More and more employees regularly work outside the office.
Stricter legislation on personal data protection
Since 25th of May 2018 the General Data Protection Regulation (GDPR) will apply. This means that from that date onwards, the same privacy legislation applies throughout the European Union (EU).
Privacy authorities want organizations to impose a fine of up to 4% of the worldwide turnover if they are in violation. Consider, for example, the unsafe storage of personal data of customers or the accidental leakage of sensitive information about customers. Such a leak must be reported to the privacy authority
One of the easiest ways to prevent the information-sensitive data as a preventive organization is with visual privacy protection. strong>